Reservations can now be made THREE days in advance for all Courts Plus members!
REGULAR HOURS
Monday-Friday 8:00am-1:00pm & 3:00pm-8:00pm
Saturday: 9:00am-1:00pm
Sunday: Closed
HOLIDAY HOURS
New Years Eve: 8:00am-1:00pm
New Years Day: Closed
Good Friday: Regular Hours
Easter: Closed
Memorial Day: Closed
July 4th: Closed
Labor Day: Closed
Veterans Day: Regular Hours
Thanksgiving: Closed
Day after Thanksgiving: 8:00am-1:00pm
Christmas Eve: Closed
Christmas Day: Closed
Reservations are recommended and can be made three days in advance online, by calling the Child Watch Reservation Line, or Courts Plus.
Let's give you the rundown…
Our family-friendly facilities offer the best way to workout without worrying about a babysitter. Drop off your child at our child watch so you can enjoy your workout. Your children will be endlessly entertained by our playground, playroom, and trained child watch workers. Our short-term child watch is for children ages 6 WEEKS-8 YEARS of age. A maximum of TWO HOURS may be spent at one time per day. Parents must remain at Courts Plus during this time.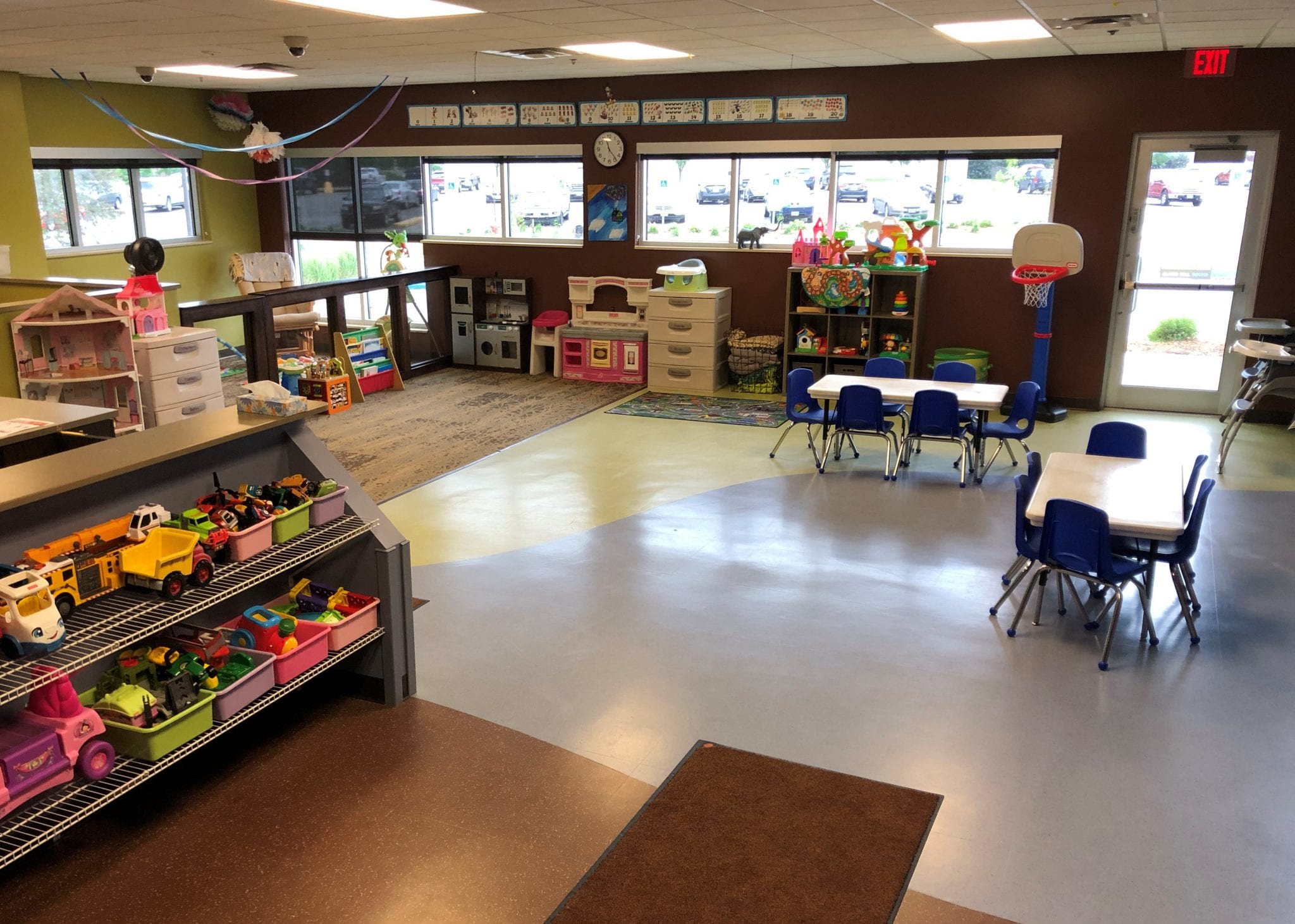 WE RESERVE THE RIGHT TO INTERRUPT YOUR WORKOUT IF YOUR CHILD BECOMES ILL OR IS HAVING TROUBLE ADJUSTING.
RATES
CP Membership

with

Child Watch Add On: FREE
Membership without Child Watch Add On: $3/per child
Non-Members with a Day Pass child: $5/per child
No Show Fee: $3 per child per hour
Late Fee: $3 per 15 minutes past reserved pick up time
Late Cancellation: $3 per child
Member Punch Card: $30 for 11 visits
Non-Member Punch Card: $50 for 11 visits
RESERVATIONS
Reservations may be made up to THREE days in advance. They may also be made the day of depending on availability. If there are no reservations by 5:00 pm for the evening the child care will close at 5:00 pm. Child watch reservations can only be made during daycare hours. Please call 237-4451 to make a reservation.
FIRST VISIT
The first time your child visits the child watch, parents will be asked to fill out a Child Enrollment Form & a Youth Enrollment Form if your child (ren) will ever partake in Youth Programs. These forms do not take very long and are important to help us to take care of your child(ren). The more we know about your child(ren) the better care we can provide.
CHECK-IN
Parents must check-in their child at the registration desk on each visit. If your child has any special needs or concerns, please discuss it at that time and with Supervisor.
CHECK-OUT
When picking up your child remember that your child will only be released to the person indicated on the check-in form.  All parents are required to check-out your child with child watch staff.
DROP OFF
Only a custodial parent or legal guardian can bring child(ren) into the child watch. Any additional adults need to be documented on the enrollment form in the child watch. Only the immediate family can bring their child(ren) into the child watch free of charge with a Child Watch add on included in the membership. If a custodial parents or guardian brings in the child(ren) that are not part of their immediate family, then there will be an additional fee for that child(ren). Any other special circumstances need to be approved by the Youth Programs Supervisor.
DIAPERS & TOILET TRAINING
Parents must supply enough disposable diapers and wipes for your child's length of stay. If your child requires use of a cream or powder, you will also need to provide that.
Children being toilet trained should have an extra change of clothes with them. Should an "accident" occur, we do have extra clothes on hand for your child, but sizing and available options are very limited.
ILLNESS
For the safety of other children and staff, your child may not be able to stay in the child watch area if any of the following are present:
Watery, inflamed eyes or crusted eyelids
Deep and severe cough, heavy or discolored nasal discharge
Fever above 100.4
Vomiting or diarrhea
Rash or unusual skin conditions
If a doctor diagnoses an infection and places the child on a prescription medication the child should not be brought into the daycare until he/she has had medication for a full 24 hours, and symptoms have disappeared for 24 hours.
EMERGENCY
Parents must provide appropriate emergency contact information on their child's check-in form. In the unlikely event of an accident, our staff is certified in CPR and AED. If these actions are not sufficient to care for your child, emergency care may be required. In the case of an emergency, every attempt will be made to contact parents immediately. Any accidents that occur in the daycare will be documented on an Incident/Accident report form.
DISCIPLINE
If a child is not displaying appropriate behavior, staff will attempt to redirect the child and may use a "time out". This will be explained to the child and parents will be informed. If behavior does not improve, parents will be contacted to come assist or take the child home.
SCREEN FREE ZONE 
A screen- free zone means no TV, movies or video games… it is all about play and activity! We still will have special occasions where we will play fun holiday movies, but we will not allow it on a daily basis.
"My family and I (especially my kids) have been extremely happy with the care provided to us by the Courts Plus child care staff! They have shown compassion for what they do and treat the kids like they are family!! I have and always will recommend Courts Plus and one of the main reasons I do is because of the child care!!

Courts Plus

Member
"We are so thankful for the daycare!

Courts Plus

Member
"Thank you for having high quality child care!!

Courts Plus

Member
"It's a great team and we are very happy with them. I have told multiple friends and coworkers how great the daycare is at Courts Plus.

Courts Plus

Member
"My girls love playing there - the staff has always been so friendly, warm, and welcoming!

Courts Plus

Member
"You guys are the best childcare that I've ever experienced. Keep it up. You are very appreciated and valued.

Courts Plus

Member
"Last night I was visiting with some friends (newer members to Courts). We got on the subject of the childcare there. I was reflecting back to over a decade ago. Wow...what major improvements!!! I attribute this all to Crystal (and her amazing crew that she hand picked). I am kind of tearing about writing this because she just genuinely loves our children. Every single one of them. As a mother, it is such a treat to get to drop off a happy child and then have that "me" time guilt free...knowing they are having fun in a safe and loving environment.

Courts Plus

Member