See You On the Court
See all the Tennis Tips right here:
Looking to brush up your skills or continue building your skill set? All skill levels can enjoy the Courts Plus courts. Courts Plus has been recognized as one of the most active tennis facilities in the Fargo/Moorhead area. A well-qualified staff of U.S.P.T.A. and U.S.P.T.R. professionals are able to offer a wide tournament, and leagues.
PICKLEBALL
Court time rates are $18.60 + tax per hour. Call for lesson pricing.
INDIVIDUAL & PRIVATE GROUP LESSONS
Do you want to learn tennis or just get back into the game? Contact Oliver or Jason to find out about beginner lessons, private lessons, and leagues. We have something to fit your schedule and tennis needs. Please scroll down to see all our available programming.
Email one of our pros for more info regarding private lessons.
TENNIS COURT TIME PRICING
$18.60+TAX
Random court time may be reserved by Courts Plus members as much as 7 days in advance. Call to reserve a court or login to your account to book courts from the comfort of your house or office.
PERMANENT COURT TIME
Permanent court time rates are discounted to $16 + tax per hour. Permanent court time may be reserved with our Director of Tennis, Oliver Summers. Court fees are paid for the entire session at the start of play.
Contact the front desk for more information or to reserve a court.
It is our policy you may not solicit or conduct on the premises any personal training or tennis lessons with or without compensation. You cannot hire a coach to teach at our facility unless that coach is an employee of Courts Plus Community Fitness who has been hired to personal train or teach private lessons specifically.
 Star Tennis Academy Our Star Junior Tennis program uses a progressive court system that uses 36', 60' and 78'  (regular size) tennis court. Coupled with ensuring the proper racquet length and using different types of tennis balls based on age and ability, our goal is to get your child playing tennis as soon as possible. This system gives your child a visible progression to maximize their improvement.
4 – 5yr old Stars
For children ages 4-5. The goal is to expose children to the FUN of tennis through movement while using Red transition balls, which was developed to give kids more success.
Tuesdays 1:30 – 2:15 PM CODE: PS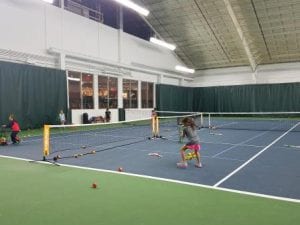 Maximum Performance Academy MXP is competitive training for the serious junior tennis player. Stroke production, singles and doubles strategy, footwork and mental toughness will be stressed.
Junior Team Tennis
For the Winter we offer our High School JTT (Friday Night Lights) and also our Sunday night match play.
Please click on the link below to see dates, prices and registration info:
Summer Team Tennis is the largest junior recreational tennis league in the country!
Summer registration is now open!  For more info please see below, remember that Team Tennis is included in the price of MXP. If you're registered for Summer MXP then email your USTA number to Oliver to enroll for Team Tennis:
Deadline to register by is June 4th at 3pm
Click here to register for Summer Team Tennis
Courts Plus Fall Adult Programs
Courts Plus Community Fitness offers a number of different adult leagues and lessons, please view all our programs below.
2020 USTA tournaments
Courts Plus Community Fitness, in association with the United States Tennis Association, hosts multiple USTA Sanctioned Tournaments each year and one Club Championship. We would like to encourage all tennis enthusiasts to play or simply view some of the area's best adult and junior players battle it out. For all USTA tournaments please click the button below:
Click here to view all our 2020 USTA tournaments
Contact Oliver Summers for more information.
The Courts Plus Pro Shop is determined to offer you the best selection of string, grips, racquet advice and other accessories in addition to our knowledgeable and courteous staff. If you are looking for a particular item we currently do not have it in stock, please contact us and we can get any item from Head, Prince, Wilson or Babolat. This includes racquets, string and bags.