When Valentine's Day comes around you are surrounded by chocolate and indulgence! When it's not necessarily bad to treat yourself now and then, we don't want it to throw ourselves or our significant other too far off the healthy track.
Everyone sees the fit couples that workout together whether that'd be in the gym, hiking or walking their dog at night. We all strive to be those couples, like Katie and Dave Stensland. They are a great example of a couple that workout together and hold one another accountable! We want to help motivate each other to stay healthy and live that healthier lifestyle together. And; let's be honest, when people are doing that together it makes achieving your goals 10x easier!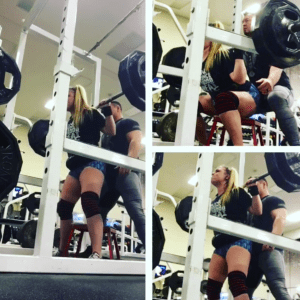 Picture Credit: ktjean3127
But, we know that life happens and it gets hard to make those workout dates happen and meet your fitness goals together. That is why I have put together the top 5 ways for you to have a gym date this Valentine's Day!
Attend a Group X class together
Now, you or your significant other may not be into a class as much as the other. But, a relationship is about give and take…right? So, give a little and go to their favorite class with them!
Utilize the childcare
We have our childcare where Plus members get free use and Fitness members pay $3.00 per child/per hour! All you have to do is call to make a reservation. Then, you won't have to worry about your littles ones while you enjoy a kid free workout together.
Parent's Night Out or Kids' Night Out
Although, this may not necessarily work for Valentine's Day specifically, I felt this was worthy of the top 5! It's a chance to have your kids have fun with friends at Courts Plus Community Fitness, while you go enjoy yourselves with a date night. Win win for everyone!
Fun Game of One-on-One
We have tennis, racquetball and basketball courts. There is bound to be one sport that will peak your interest. Why not challenge your significant other to a game and whoever wins gets to buy the other a smoothie at our smoothie bar (with or without sharing that is your choice)!
Couple Workout
A quick Google search will lead you to so many couples' workout routines and all you need is a weight area to do them! Guess what? We have that covered for you! All you have to do is a little research on your end and come in. Maybe even surprise your date by bringing them here and then go to dinner after?
I hope that these ideas spark an interest in staying on track today! Don't feel that you have to be unhealthy just because it's Valentine's Day; there are ways to keep each other motivated and sticking to your workout program. Happy Valentine's Day!