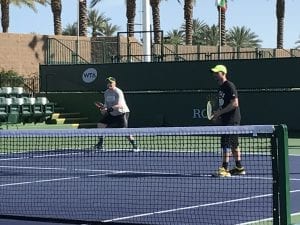 Team Northern, that's us, narrowly missed out on a place in the semi-finals today. So our journey ends.
All in all though, this was an amazing event. It's a dream come true, for me to be able to play on the same courts as the pros, in the same stadiums.
We fly back tonight, but not before we'll have the chance to watch the Women's and Men's singles final. As a teaching pro, the cutting edge of what is happening in tennis, is at the highest echelon of the game. It's inspiring for me to watch high level tennis and I can't wait to teach my lessons next week.
Of course this whole great experience started on a court, in a league, at Courts Plus. Actually, a summer league. That's when we decided to start this new men's 4.5 league and who could have imagined that it would have taken us all the way to nationals in Indian Wells, CA.
Best advise I can give you, is get involved in the game. There's a league for you, and the sky's the limit!