So by now we're probably all lost an untold number of hours of sleep, trying to follow our favorite tennis players for the last two weeks. We've probably all debated the relative merits of the two giants of the men's game, Nadal and Federer, and who is the Greatest of all time (G.O.A.T.) Certainly Federer's twentieth major makes a compelling argument, but anyone who knows me, knows I wear a Nadal hat 24-7 so I'm not going there.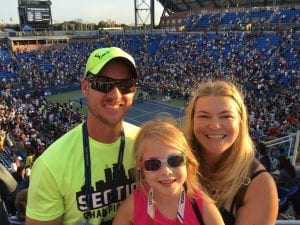 I have two really important takeaways from this year's Aussie Open. Number one we've seen that age is not a factor. Roger Federer even said that himself. As long as the desire and hunger is there then people can achieve their goals, and continue to set new ones. Number two, if at first you don't succeed, try, try again. Caroline Wozniaki proved that in the women's event. She is someone who has previously held the world's number one ranking for 67 weeks, lost in 2 prior grand slam finals and had to play 43 grand slams, and a total of 149 Grand Slam matches, before finally capturing her first major. She is also the World's number one player again, so now she's on week 68!
How is this all relatable to us mere humans? Age is not a factor, we have kids starting tennis at the age of 4, and players still playing at the age of 84. It's never too late to start playing tennis and have fun with this great sport. If you remember tennis as a kid and think it's not for you, try again. Tennis has changed, equipment has changed, lessons have changed. If you have a bad day on the court, don't give up, try, try again. You can achieve your goals and we're here to help. To view our upcoming programs visit our tennis page.